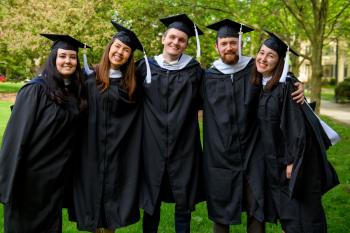 The European Studies Graduate Fellows Network includes graduate students working in fields related to European, Eurasian and Russian Studies. Students from various departments and professional schools, as well as those conducting interdisciplinary research, form part of the community. The overall aim is to encourage intellectual engagement and innovation in the graduate student community through supporting academic research and affiliated gatherings.
Graduate students involved in the network are eligible for support to help them attend conferences related to European studies, broadly interpreted. In addition, students interested in traveling domestically or internationally for research purposes —whether that means mining state archives in Moscow for insights into the Soviet era, scouring British colonial records in London or elsewhere across the globe, etc. — may also apply for funding. All applicants must apply through the Yale Student Grants & Fellowships database.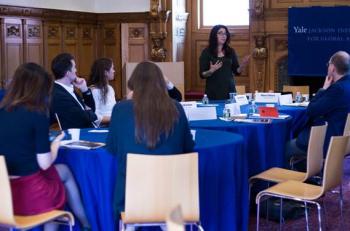 Beyond funding, and the benefits of being a member of an academic community, this network also offers a variety of other opportunities, including access to reading groups, lecture series, and occasions to meet with affiliated faculty and prominent visitors: scholars, ambassadors, and politicians and key political actors hailing from Europe and Eurasia.
Note that the European Studies Student Fellows Network is only open to Yale undergraduate, graduate and professional school students; and graduate students of the eleven universities of The International Alliance of Research Universities (IARU). The IARU Members are the Australian National University, ETH Zurich, National University of Singapore, Peking University, University of California, Berkeley, University of Cambridge, University of Cape Town, University of Copenhagen, University of Oxford, the University of Tokyo and Yale University
Current Student Fellows of Yale University
Current Student Affiliate Fellows