Bill Rankin
Bill Rankin's research focuses on the relationship between science and space, from the territorial scale of states and globalization down to the scale of individual buildings. He is particularly interested in mapping, the environmental sciences and technology, architecture and urbanism, and methodological problems of digital scholarship, spatial history, and geographic analysis (including GIS).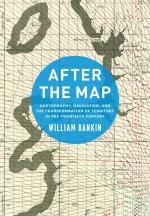 His prize-winning first book, After the Map: Cartography, Navigation, and the Transformation of Territory in the Twentieth Century (University of Chicago Press, 2016), is a history of the mapping sciences in the twentieth century. It tracks the shift from the god's-eye view of the paper map to the embedded experience of GPS, and it analyzes the role of mapping both in the macropolitics of US global power and in the micropolitics of everyday subjectivity and the unexpected uses of new technologies. More information is available on the book's website, www.afterthemap.info.
In addition to his historical work, Bill is also an award-winning cartographer, and his maps have been published and exhibited widely in the US, Europe, and Asia. Most of this work is available on his website, www.radicalcartography.net, maintained since 2003.
Bill is currently working on two book projects. One is a spatial history of the environmental sciences since 1960 that explores the changing relationship between graph-like knowledge and map-like knowledge. The other is a more methodological-theoretical book on mapping and visual communication.
Education:
Harvard University, dual Ph.D. in History of Science and Architecture
Harvard University, A.M. in History of Science
Rice University, Bachelor of Architecture
Rice University, B.A. in Architecture and Civil Engineering, summa cum laude
Fields of Interest:
The physical and earth sciences since the mid-19th century; military, industrial, and governmental science; history of cartography; science and architecture; visual studies; environmental history