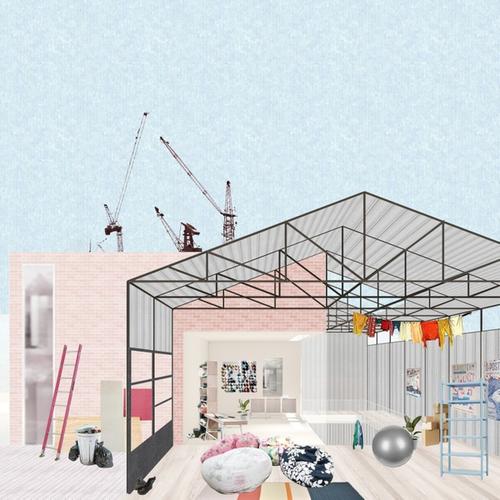 Following a multi-year academic engagement with Gothenburg, Sweden, urban research and design proposals developed by students and faculty of the Yale School of Architecture will be on display at the House of Sweden in Washington, D.C. from February 1-23, 2020 in the exhibition Learning from Sweden. Älvstranden Utveckling AB and the School of Architecture at Chalmers University have been partners in the effort.
Work from two graduate-level summer research programs and an advanced design studio taught by Professor Alan Plattus and Critic Andrei Harwell, along with a research and design proposal developed by the Yale Urban Design Workshop for research consortium Fusion Point, range from detailed analysis and description of Gothenburg's distinctive urban form and architectural typologies, to proposals which address some of the most urgent issues reshaping contemporary cities, including climate change and resilience, the food production and supply chain, mobility, public health, adaptation to post- or neo-industrial economies, and social equity issues such as access to housing, jobs, recreation and education.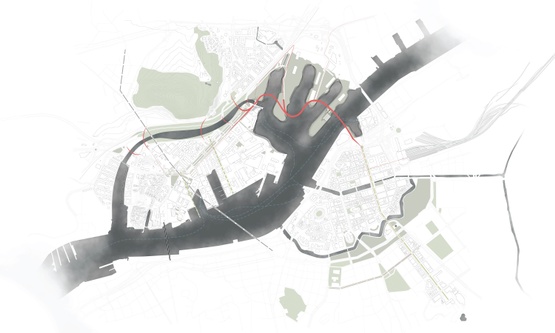 Students in the two summer courses taught in Gothenburg, based at and in collaboration with the Department of Architecture and Civil Engineering at Chalmers Technological University, were asked to engage in close readings of a series of characteristic neighborhoods and areas in Gothenburg. The task was to produce a "thick description" of the urban fabric and its components, with the aim of developing a deep knowledge of Gothenburg's structure and characteristics, and how they relate to social, ecological and economic systems. One seminar focused on characteristic areas of expansion for specific historical periods, while the second focused on knowledge creation areas of the city.
These seminars, along with seminars planned for 2020 and 2021, contribute to the ongoing development at Yale School of Architecture of an Urban Atlas of Gothenburg, a document that can serve as a model for the wider study of other northern European cities undergoing parallel transitions from a maritime and industrial economy to the local and global networks of knowledge production and culture associated with contemporary urbanism. This Urban Atlas, on display in the exhibition, can also serve as a reference for city agencies charged with guiding the redevelopment of the riverfront, including Lindholmen, a former shipyard in downtown Gothenburg.
The advanced design studio, taught by Plattus and Harwell in Fall 2019, builds on the Urban Atlas and examines Lindholmen as a central node in the city, challenging students to develop critical design proposals for multiple areas of the city, understood as components of the larger urban region as well as European and global networks. A range of these proposals will be exhibited as part of Learning from Sweden, including ideas for ocean farming, affordable housing, and new community services.
The last component of the show, "DesignCase Lindholmen: From Science Park to Science City," is an initiative undertaken by the Yale Urban Design Workshop for industry-academic research group Fusion Point, with the with the goal of modelling best practices in the development of design concepts and processes for sustainable, resilient and inclusive urban design. The next phase of development of the Lindholmen area of Gothenburg is taken as a case study, although one important goal of the exercise is to consider any particular site at scales ranging from the building, to public open space and infrastructure, to the entire River City development zone, to the City and its region. Proposals for Lindholmen and South Lindholmen are included as part of the exhibition.
All of this work stands within an evolving Yale School of Architecture tradition of "learning from" less-studied aspects and sites in the built environment, going back to the famous 1972 design studio, "Learning from Las Vegas," conducted by Robert Venturi, Denise Scott-Brown, and Steven Izenour. Like that studio, the current Yale work in Gothenburg represents an ongoing commitment to develop innovative pedagogical approaches that produce new design knowledge and expertise through an initial focus on the specificity of local place and culture, and then to communicate and apply that knowledge on the broadest global scale. The openness and generosity of institutions and people in Sweden, and importantly their shared commitment to developing sustainable, just and livable cities, has made this work possible and productive.
Learning from Sweden, 1 February – 23 February 2020
House of Sweden
2900 K Street NW
Washington, D.C. 20007
About the Yale School of Architecture
The mission of the Yale School of Architecture is to educate architects, scholars, teachers, and leaders who will shape the future through design. Located in New Haven, Connecticut the School offers professional and post-professional architecture degrees as well as the interdisciplinary Master of Environmental Design; it also supports an undergraduate architecture major and a Ph.D. program. The Yale School of Architecture is home to the Jim Vlock First Year Building Project, the first design-build program at an American school of architecture, and Perspecta, the oldest student-edited architectural journal in the United States.
About the Yale Urban Design Workshop
The Yale Urban Design Workshop and Center for Urban Design Research (YUDW) provides a forum for faculty and students from the School of Architecture and other professional schools at Yale to engage in the study of issues, ideas, and practical problems in the field of urban design. Since its founding in 1992, the YUDW has worked with communities across the state of Connecticut and around the world, providing planning and design assistance on projects ranging from comprehensive plans, economic development strategies, and community visions to the design of public spaces, streetscapes, and individual community facilities.
About House of Sweden:
House of Sweden is home to the Embassy of Sweden´s public diplomacy theme programs. Inaugurated in 2006 and designed by award-winning architects Tomas Hansen and Gert Wingårdh, House of Sweden is a testament to transparency, accountability, and openness—key values in Swedish society.