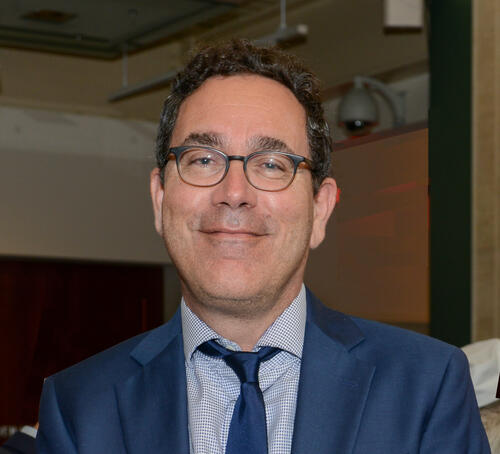 Gavriel David Rosenfeld is Professor of History and Director of the Undergraduate Program in Judaic Studies at Fairfield University. A native of Bloomington, Indiana, he graduated from Bloomington High School South in 1985. He received his B.A. in History and Judaic Studies from Brown University in 1989. Following a year studying on a Fulbright-Hays Fellowship at the Ludwig-Maximilians-Universität in Munich (1989–90), he received his Ph.D. in History from UCLA in 1996.
What was your pathway to visiting Yale?
Having taught just "down the road" from Yale at Fairfield University for two decades, I've long been interested in spending a sabbatical leave in New Haven. Yale's library resources and scholarly community provide a perfect place for me to continue my work on my current book project.
What will you be working on when you are at Yale?
I am hoping to complete my new book, What Ifs and the West: A History of Counterfactual History from Antiquity to the Internet. In this study, I seek to explain the surging importance of counterfactual history in contemporary western life by historicizing the ways in which people have wondered "what if?" about the past over the course of three millennia. It might seem strange to connect present-day alternate history television series like Amazon Prime's The Man in the High Castle (2015-1019) to the counterfactual musings of Herodotus and Thucydides, but since Antiquity, wondering "what if?" has been a constant feature of western historical consciousness. By tracing the shifting patterns of historical speculation across the many centuries of western history, I argue that we can better appreciate the importance of events that never happened.
How will you be working with Yale students?
I am eager to introduce students, both undergraduate and graduate, to the benefits of studying of counterfactual history, a topic that is still underrepresented on most American college campuses.
How will you be working with Yale researchers?
I look forward to exchanging ideas with, and getting feedback from, Yale faculty and fellow about my own research and theirs as well.
What are you most looking forward to doing or visiting when at Yale?
Interacting with a new group of scholars on a variety of academic topics is bound to be stimulating and I very much look forward to getting started!