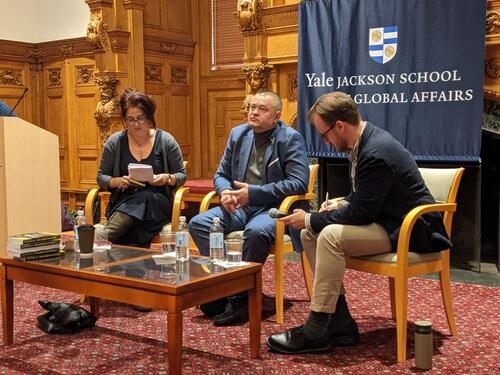 In what ways have the roles of language and literature as expressions of Ukrainian identity evolved since the start of Russia's full-scale invasion of Ukraine? For Volodymyr Rafeyenko, an award-winning author, poet, translator, literary and film critic and native of Ukraine's Donbas region, this question is not abstract but personal. Before the outbreak of the Russo-Ukrainian War that forced him to flee from Donetsk in 2014, Rafeyenko wrote and published exclusively in Russian. From his new home in Kyiv, he wrote his first novel in the Ukrainian language, Mondegreen: Songs About Death and Love. Mondegreen, and how Rafeyenko's portrayals of life in Donbas in 2014 resonate in 2022, was the focus of the first installment of a three-part series on newly translated Ukrainian books organized by Yale's MacMillan Center, "Reading Ukraine." 
The discussants were Volodymyr Rafeyenko (author of Mondegreen and The Length of Days) and Marci Shore (Associate professor of History), with consecutive interpreting between Ukrainian and English provided by Yevhenii Monastyrskyi (graduate student in European and Russian Studies). Rafeyenko discussed the similarities in his experiences on the eve of Russia's respective invasions of Ukraine – the 2014 invasion of Crimea and Donbas and the 2022 full-scale invasion of Ukraine. In both the discussion with Professor Shore and the Q&A section, Rafeyenko shared his reasons for writing in Ukrainian as opposed to his native Russian. Rafeyenko explained the significance of adopting Ukrainian as a negation of what contributing to Russian culture would mean as a Ukrainian writer at a time of war. More importantly, however, Rafeyenko emphasized the inextricable links of literature, language, and culture, and the unique role of writers like himself at this crucial point in Ukrainian cultural life and history. 
The event took place in Horchow Hall, on October 28, 2022 and was also recorded via Zoom.
Written by Caroline Dunbar, a Master in European and Russian Studies Candidate at Yale.