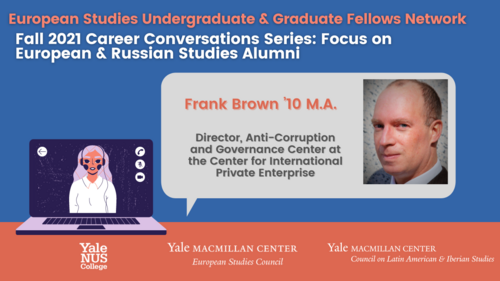 on September 22. Brown is the Director of the Anti-Corruption & Governance Center of the Center for International Private Enterprise (CIPE) and an alumnus of the European & Russian Studies MA program.
Zooming into Luce Hall from his home in Washington, DC, Brown began his conversation with the students by describing the origins of his interest in history and specifically in the East European region. As a young man, he was fascinated by the enigma of the Soviet Union, and in the late 1980s he pursued this interest while getting an undergraduate degree in history at Columbia University.
After graduating from Columbia, Brown worked as a journalist for the New York Times, the Philadelphia Inquirer, and the Lakeland Ledger. In 1993 he moved to Russia, where he worked for the Moscow Times, Jerusalem Report, and as Moscow bureau chief at Newsweek. He recalled, among other things, how his professional path intersected with essential personalities of Russian journalism of the late 1990s and early 2000s, such as Anna Politkovskaya.
After returning to the US from Russian, Brown joined the MA program in European & Russian Studies at Yale. While in the program, Brown simultaneously worked as Assistant Director in the Communications Department of Yale Divinity School. His goal was to make his way into the NGO field. His years at Yale helped him do that. "Yale education is worth a lot. It will open doors," he noted.
Brown led an informal Q&A discussion with students after his talk. See video here.
---
By Yevhenii Monastyrskyi, MA Candidate in European & Russian Studies