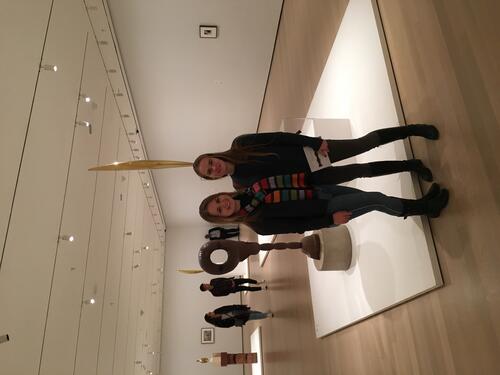 Thursday, January 24, 2019
Darya Smirnova is a second year MA student in the Europeans&Russian Studies program. Originally from Vinnitsa, Ukraine, she completed her undergraduate degree at the University of St Andrews, UK.
I am extremely grateful for the opportunity to visit my New York class. Despite the fact that Shared Course Initiative provides all the necessary resources to learn a language, it is still beneficial to meet fellow students in person and establish a rapport with them for future group projects, as well as to be exposed to specific cultural elements that are unavailable in New Haven. 
When I was in New York, I visited an exhibition of works by the Romanian modern sculptor Brancusi, where I spoke with a classmate about the significance of Romanian art in the evolution of modernism as a whole. We photographed ourselves in front of one of his works. 
Later, another student and Professor Momescu joined us for dinner at a Romanian restaurant in Queens. We placed our food orders in Romanian, and it was fascinating to converse with and listen to native speakers other than our instructor. Then, we examined the menu and discussed traditional Romanian cuisine, and I was surprised to find similarities with Ukrainian food. 
The following morning, we attended our regular class at Professor Momescu's office in the SIPA building in Columbia, where we worked on our class project. After that, I went downstairs to meet Chris Kaiser and other staff members of the language learning center. Observing how the facilities typically operate from the other side of the screen was extremely helpful. Later that afternoon, I returned to New Haven via train.