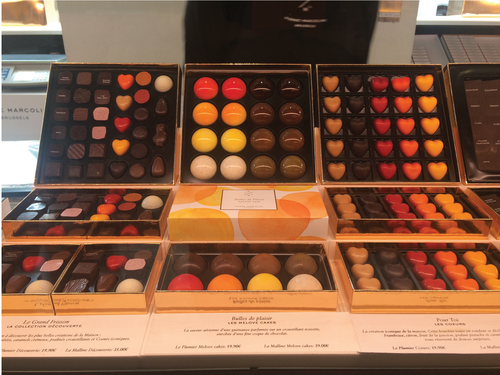 Emily Sigman is a joint degree MA Global Affairs and MA Forestry candidate at the Jackson Institute and School of Forestry. Her research interests in Europe span the intersecting fields of agriculture, climate resilience, and geopolitics. 
---
I traveled to Belgium via commercial cargo ship and rail to support  my research on the global cocoa supply chain.  Belgium is a chocolate mecca: it is home to the  largest cocoa processing factory on the planet, features dozens of the world's finest chocolatiers and boasts one of the globe's highest per capita consumption rates of chocolate.  Belgian chocolatiers invented the praline, and continue to enjoy global prestige for their outsized skill and creativity, commanding extraordinary  prices on finished chocolate confections. 
Yet cacao is a plant that originates in South and Central America, and today the vast majority of cacao is sourced from West Africa, where it suffers from a number of socio-ecological maladies (among them: labor rights abuses, environmental degradation, unfair trade, and severe pest pressure).  Tracing cocoa from its production in West Africa, to its transportation via global freight ships, to its manufacture and sale in Belgium is allowing me to draw out conversations on ethics, sustainability, and legacies of colonialism as they manifest in the psychoactive, tremendously complex, mysterious and yet ubiquitous concoction that is chocolate. 
My first visit to Belgium was productive.  Activities and highlights included: 
Interviews with the heads of two major chocolate companies
Interview with a leading expert on cacao securities
Short interviews and visits with several top chocolatiers, including:

The Belgian Chocolate Makers

Neuhaus

 Leonidas

 Godiva

Wittamer

Pierre Marcolini

Participatory observation of a public chocolate workshop
Research at the Museum of Cacao and Chocolate, including additional participatory observation of a public chocolate lecture.
Time on ship offered ample opportunity to conduct a thorough literature review, including a survey of more than a dozen books on the history of chocolate in Europe.
The entire cacao import market in Belgium is controlled by two firms.  All chocolatiers are ultimately importing cacao from these two multinational corporations, even if they do so under the name of a subsidiary

This severely limits choice for chocolatiers, who are effectively disempowered/blocked from importing directly from farmers or trade associations.
Moreover, the vast majority of chocolatiers are importing finished coverture, rather than raw beans (only 2 chocolatiers in Brussels were thought to be importing beans and/or mass and butter).
There was a high degree of skepticism regarding the coverture marketed by these companies as "fair trade" or "biologique" – all cacao from West Africa is widely regarded to include some degree of pesticide use and child labor.

Substantial institutions and cultural norms exist that reify the perpetually high levels of chocolate production and consumption in the country –profusion of chocolate schools, expectation of a minimum of 2 years of formal training, associations with childhood consumption of chocolate all contribute to current chocolate culture.
Consolidation of industry on all sides threatens artisanal production and limits options for consumer/manufacturer pressure to effectively shift cocoa sourcing practices.
Historic connections to cacao in Mesoamerica are obfuscated by inaccurate depictions of colonialism; public celebrations of the history of chocolate do not perpetuate an understanding of the role violence and conquest played in translating this Mesoamerican creation into a European staple
Substantial labor rights and environmental issues exist on the cargo ships transporting cacao, and these concerns remain virtually absent from the discourse on improvements to the cocoa supply chain
Current attempts to improve the supply chain  from a European finishing and consumption standpoint are severely limited by the consolidation of power in all levels of the chain.
Future visits (pending: May 2020) will include tours of large factories, storehouses and processing plants in Switzerland and Amsterdam