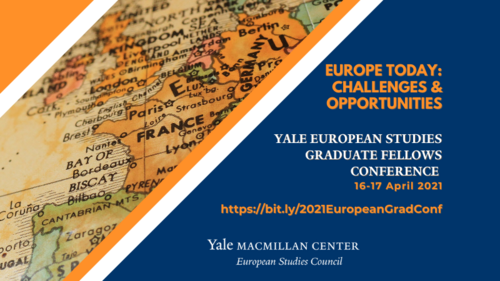 The Yale European Studies Graduate Fellows network presented their second annual conference on April 16-17. The event, titled "Europe Today: Challenges & Opportunities," was the culmination of a collaborative effort spanning nearly a year and gathering together 45 graduate students and faculty representing 21 institutions worldwide. Throughout the two-day virtual series, speakers shared their interdisciplinary insight into the most pressing challenges facing Europe, Russia, and Eurasia today.
Day one of the conference opened with welcome remarks by Julia Adams, Professor of Sociology and International Area Studies and the Acting Chair for the European Studies Council at Yale. Professor Adams' enthusiastic remarks set the tone for the first two panels, which analyzed contemporary Europe through a political lens. Speakers turned to case studies in Poland, the US, and Belarus to open up dialogue on protest, contentious politics, and the thin line between democracy and authoritarianism. Faculty discussants Dr. Maria J. Hierro (Yale) and Professor Milan Svolic (Yale) shared their considerable knowledge and insight on these topics.
A highlight of the day was keynote speaker, Member of the European Parliament Radosław Sikorski. In his talk, which was moderated by Professor Marci Shore (Yale), MEP Sikorski spoke to a packed audience with about 100 attendees on questions of EU sovereignty, trade, democracy, and federalism (watch the full video recording). Through a generous Q&A, he fielded questions from the audience, speaking powerfully on the pressing topics of populism and climate change. He congratulated the graduate panelists on their incisive choice of panels topics, saying: "You are the first conference in my conscience that has had a panel on East European Migration to Central Europe… I think this is going to become an interesting political fact in the future and needs to be discussed."
The afternoon panelists drew our focus to Europe in terms of its economy and its role in global governance. With the support of discussants Professor David Cameron (Yale) and Professor Richard Balme (Sciences Po), graduate students shared their research on themes ranging from EU public bodies in post-pandemic venture capital markets to UK-EU security cooperation in a changing world order.
The second day of the conference was similarly lively. The first panel dove deeper into the topic of EU and great power diplomacy. Discussant Dr. Julio Guinea Bonillo (Universidad Rey Juan Carlos) pushed panelists to consider new angles in their research on gender equality and EEC-USSR trade relations. The audience was treated to a special presentation by a group of seven Yale European & Russian Studies Graduate Students, who presented on the early stages of their research as it developed towards their Master's theses.
In the afternoon, the panelists on the theme of Eastern European migration to Central Europe explored the intersection of migration and self-identity, national identity, and memory, and fielded comments from discussant Professor Jannis Panagiotidis (University of Vienna). The day closed with a look at Europe through an environmental and urban sustainability frame. This unique panel, with discussant Professor Robert W. Orttung (George Washington University), considered the impact of the climate crisis on Northern European cities and urbanism within this context.
The conference was made possible by a determined committee made up of graduate students organizers. This committee comprises representatives of the Yale European Studies Graduate Student Fellows Network, institutions from The International Alliance of Research Universities (IARU), and the Fox International Fellowship. The organizers worked tirelessly to ensure a smooth virtual event that was packed with new insights and research on the most interesting and complex issues facing Europe Today.
We invite you to browse the conference booklet, which includes speaker bios and detailed abstracts, and to revisit the keynote address on our YouTube page. Visit this page for more information on joining the European Studies Graduate Fellows network. Finally, please keep an eye out for the announcement of prizes that will be awarded to conference panelists for the best conference papers, as well as the conference journal to be released later this year.