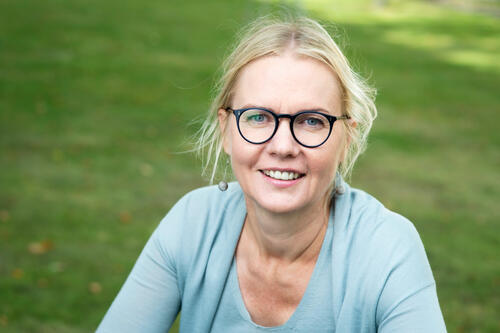 The following interview is part of the European Studies Council and Council on Latin American & Iberian Studies collaborative collection titled "On the Ground Perspectives." This new series features our international academic collaborators and institutional partners, investigating their research and other institutional priorities during the pandemic. The series aims to surface common challenges and showcase best practices for ongoing collaboration during this unusually challenging time. 
Eneken Laanes, Professor of Comparative Literature, Tallinn University
Eneken Laanes is a Professor of Comparative Literature at Tallinn University and the Project Leader of the European Research Council project Translating Memories: The Eastern European Past in the Global Arena. Her research deals with transnational memory and transcultural memorial forms in post-Soviet memory cultures of Eastern Europe. Laanes studied comparative literature at the University of Tartu, University of Bologna, and the Free University of Berlin. She was a Juris Padegs Research Fellow at Yale University (2013–2014) and a Kone Fellow at the Helsinki Collegium (Fall 2019). She is the author of Unresolved Dialogues: Subjectivity and Memory in the Post-Soviet Estonian Novel (in Estonian, Tallinn: UTKK, 2009) and the editor of the special issues publications Entangled Cultures in the Baltic Region (Journal of Baltic Studies, 2020) and Cultural Memorial Forms (Memory Studies,  2021, with Hanna Meretoja).
These are unprecedented times. Could you tell us about a few lines of faculty and grad student research at Tallinn University that tackle the challenges of the present moment?
Even though Estonia has been, so far, less affected by coronavirus than other European countries in terms of the number of positive cases and deaths, we are, in this global world, facing similar challenges to any other country. Many efforts at Tallinn University have focused on offering scientific support for dealing with the challenges associated with education and digital methods of instruction and communication.
At the School of Educational Sciences, researchers are rapidly assessing the experience of teachers and parents at pre-school childcare institutions in coping with emergency situations. Another project studies the experiences of Estonian general education schools in distance learning and maps the challenges, good practices, and development needs that different parties experience in the process. The results of the study will provide an overview of the factors that influence the distance learning experience at schools, at class and student levels, providing input for planning further study management, as well as the development and use of digital solutions and learning resources. These initiatives have been supported by a project at the School of Digital Technologies that also maps the experiences of distance learning and its impact on the Estonian education system from the perspective of digital technologies. Estonia has been at the forefront of the application of digital technologies in instruction, but the ongoing pandemic has brought new and unpredicted challenges for both teachers and families.
Right after the beginning of the lockdown in Estonia, a psychologist at Tallinn University started a project to assess the mental health and well-being of residents during and after the state of emergency. The social scientists, for their part, are contributing to a Europe-wide study of how communities have used social media to raise awareness and resolve social problems in the context of the lockdown.
In the School of Humanities, where I am based, the human geographers have put together an interdisciplinary research group, "Cities, Work, and Digital Platforms," to explore the effects of the pandemic on digital labor platforms in Tallinn. Given that the pandemic is largely an environmental problem, research in ecocriticism and environmental humanities has also gained momentum. The gender implications and the ways in which the pandemic-induced lockdown affects vulnerable groups are also being discussed.
Are there important lines of research at Tallinn University related to COVID-19 that you would like to describe?
Last July, the Estonian Research Council announced an extraordinary call for target grants related to solving the problems caused by the SARS-CoV-2 infection directed at different universities and research institutes in Estonia. More than a dozen experimental and applied research projects have been funded by this program. They range from those studying new types of more effective face masks to developing biodegradable substances for use in different disinfectants to antiviral protection methods of hard to clean surfaces. There are also several projects dealing with the development of new ventilation solutions. At Tallinn University, for instance, chemists are studying how to apply new antiviral carbohydrates in disinfectants, cosmetics, and pharmaceutical formulations.
How is the pandemic affecting Tallinn University's researchers' ability to do their work?
As everywhere, research has been negatively impacted by the restrictions on lab work. The travel bans make fieldwork, research stays at libraries and partner institutions, and in-person attendance of conferences impossible. Surprisingly enough, some of my colleagues have also noted that due to reduced travel and academic commitments, they have had more time to focus on writing and publishing projects.
I am currently leading a European Research Council grant project "Translating Memories: The Eastern European Past," that explores the cultural memory of WWII and the socialist regimes in Central and Eastern European literature and film. We have had to go online with some of our events and postpone those where we felt an in-person gathering was essential. Instead of events, we have focused on writing and collaborative publication projects that are not strongly affected by the restrictions created by the coronavirus. Some of our members had planned fieldwork at different memorial sites and museums in Russia and Ukraine, as well as research stays at the libraries in various Central Eastern European countries. These plans have been cut short by coronavirus and postponed indefinitely because we do not know how the situation is going to play out in different countries even when the vaccine becomes available.
We also have positive examples of how to redirect research and continue with it in a productive way. Dr. Margaret Comer, who joined our project last September, had a positive experience last spring when she served as the Research Assistant for "Safeguarding Sites: The IHRA Charter for Best Practice," a project funded by the International Holocaust Remembrance Alliance that aims to gather and devise best practices for safeguarding Holocaust sites that are facing challenges. The project had planned to visit several places across Europe this year to collect data from sites facing challenges and to speak with site managers and stakeholders to discuss their thoughts and best practices for countering these challenges. The COVID-19 pandemic has made this impossible. Instead, the leading team members shifted their focus and looked at digital commemorative and memorial practices on different memorial museums' websites and social media channels over six months, which included the first period of lockdown. How had sites used the Internet and social media to allow visitors to interact with the sites and their histories when in-person visits became impossible? A methodology for collecting data was devised, and information was gathered over the span of a few weeks in late summer. The results are now being analyzed and conclusions are being drawn. Despite the pandemic, it was important to move forward with the project and collect data during this period. It turned out to be a fruitful and thought-provoking project, one that speaks to the importance of studying and understanding digital commemoration in 'normal' times as well as in crises.
What are your top priorities at Tallinn University as related to engagement or other partnerships with other institutions at this time?
Of course, the priority is to strengthen and maintain the existing partnerships using the new formats of collaboration and communication, such as hybrid or virtual meetings and webinars. Especially difficult is engagement with new institutions in the case of research projects that are in the development phase. While before lockdown it was possible to meet face-to-face and establish sustainable partnerships, in the current situation in which academic mobility has been brought to almost zero this also has to be done online. All in all, it has proved to be more difficult and time-consuming to coordinate collaboration and maintain partnerships at our previous level.
What benefits or opportunities do you see in your experiences collaborating with other institutions at this time?
This new situation that has disrupted the established modes of collaboration has also forced us to be more creative and to develop new innovative modes and formats of collaboration that would enable us to carry projects forward.
The European research institutions and support mechanisms have also facilitated new formats of collaboration. The EU program Erasmus+, which, among other projects, supports our faculty's academic mobility, is currently being simulated as an e-mobility project to continue existing collaborations and possibly build new ones.
Another benefit I have experienced has been the opportunity to keep learning from each other, even in these new circumnstances. In September, I participated in an online conference, "The Other Europe: Changes and Challenges Since 1989," organized by Professor Edyta Bojanowska at the European Studies Council at Yale Macmillan Center. While the quality of online conferences I have attended over the past nine months has varied considerably, this conference was exceptionally well-organized in terms of the meticulous choice of formats to facilitate online discussion as well as in terms of the protection of intellectual property and technical solutions. The conference offered me a lot, not only for my research, but also in terms of how to organize a perfectly functioning online conference that provides the same quality of exchange as in-person conferences.