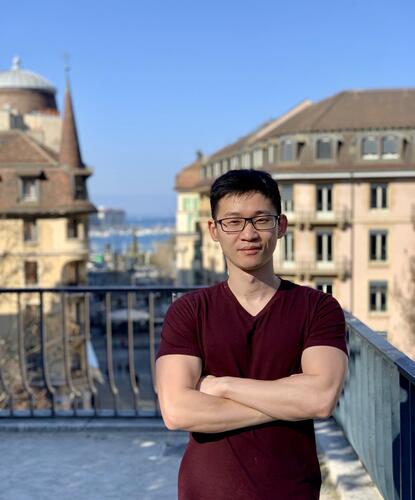 The following interview is part of the European Studies Council's Alumni Spotlight series. This series features graduates from Yale's European & Russian Studies (E&RS) Program.  
Qiyang Niu graduated with an MA in European & Russian Studies in 2017. Qiyang has worked as a political correspondent in Washington, DC, covering US foreign and defense policy, and is currently working with the Centre for Humanitarian Dialogue in Beijing on international conflict mediation. 
Could you tell us a little bit about yourself?
I perceive myself to be a person who enjoys challenges – perhaps not always, but most of the time. Russian is one of the most enjoyable challenges in my view. As a result, I majored in Russian Language & Literature at Nanjing University, China, and later started the E&RS program at Yale in 2014. After finishing the first year of the E&RS program, I took a year off to try something different/take on more challenges: I interned at two organizations in New York City (EastWest Institute and UNDP) and spent a summer in rural Russia teaching language and music for a children-centered community. I returned to Yale afterwards and finished my degree in 2017. In 2017-18, I was a political correspondent based in DC, and have been working for the Centre for Humanitarian Dialogue, a Swiss-based private diplomacy organization, since fall 2018.
How was your time at Yale? Can you share a few memories that you think might encapsulate your experience?
It was both delightful and a little exhausting! Some of the delightful parts include all my papers that got graded "Honors," and being in seminar and admiring the wisdom of Prof. Paul Bushkovitch, as well as watching and discussing films and literature with Prof. Katerina Clark. Apart from academic life, my cherished memories include rehearsal hours with the Yale Russian Chorus and Yale Camerata, and the concerts I gave with the two groups. I also remember packing 30+ books into my suitcase before winter break and flying with them back to Beijing. I stayed at home for I-can't-remember-how-long to finish the papers! 
What made you decide to come to Yale for your European & Russian Studies (E&RS) MA degree? Was there anything in particular that you were interested in?
Of course I could say that I decided to come to Yale because of how gorgeous Yale is, how academically distinguished Yale is… but I think in my case, at least, Yale chose me. I believe Yale saw something in me from my previous studies and experience, which I appreciate.
The E&RS program perfectly met my needs: I wanted a program that allowed me to broaden my knowledge as much as possible, while maintaining a regional focus on the former Soviet bloc. E&RS allowed me the freedom to choose any course I wanted, while still focusing on Russia – a huge piece of land that has intrigued me for a long time.
How has your E&RS MA degree influenced your life, professionally and/or personally? 
From a pragmatic perspective, my Yale credentials have boosted the level of initial trust other people (employers, for example) give to me. My studies at Yale also helped hone my creative problem solving abilities, and have helped me to think big. The E&RS MA degree offers good training in this sense: you need to identify objectives (for instance, decide the topic of your final paper), determine indicatives (identify arguments after doing tons of reading), and find solutions (structure your paper well and finish it). Personally, I think the requirement of the E&RS degree that one has to take classes from multiple fields such as literature, arts, history, and political science has made me a more complete individual. Without this, I might not have taken courses on literature, which would have been a tremendous loss for myself.
Can you describe your salient points in your career after Yale and to where you are now?
After graduation, I became a political correspondent based in Washington, DC, reporting US foreign and defense policy. In this role, I covered press briefings at the Department of State and the White House, hearings in Congress, and events at leading think tanks. Following this, I joined the Centre for Humanitarian Dialogue, an organization focused on conflict mediation. Based in Beijing, I work with a team to design and facilitate dialogues involving conflict parties with the aim of reducing tensions in major China-related regional conflicts, including the South China Sea disputes and US-China rivalry. This role has allowed me to go deeper into concrete foreign affairs issues and allows me the space and freedom for personal ideas, two high priorities for my professional life. 
If you could go back and give yourself advice when you were a student, what would it be? 
Make even broader choices when selecting courses! You never know what career path you will eventually land. It does not always fit your background perfectly. For instance, I currently work mainly on issues in the Asia-Pacific, though Russian studies is my background. If I could go back, I would tell myself to go to more classes (even if just audit) that are outside of European and Russian topics.
If you could pass on a piece of advice to current undergraduate students looking to further their graduate studies in European Studies or a current E&RS MA graduate student, what would it be?
Be open-minded. Whether you are planning to apply or are already an E&RS graduate student, the thing you currently work on does not limit what you do in the future. 
In addition, as a former international student whose first language is not English, I would like to pass on one small piece of advice to fellow international students (and potentially all students as well): use the Writing Center more often. Besides helping to shape a better writing flow and improve academic performance, it also benefits one's way of thinking, which is needed broadly both in terms of future career and life.