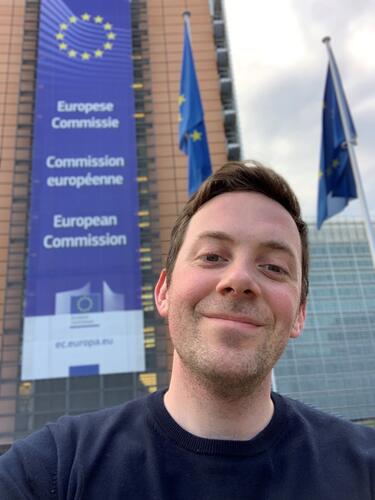 The following interview is part of the European Studies Council's Alumni Spotlight series. This series features graduates from Yale's European & Russian Studies (E&RS) Program. 
Jake Nelson graduated with an MA in European & Russian Studies in 2014. Jake was a Thomas R. Pickering Graduate Foreign Affairs Fellow and a Foreign Language and Area Studies (FLAS) Fellow in German. Since graduating, he has worked in diplomatic service, holding positions in Algeria and Germany. He is currently the Desk Officer for the European Union at the US Department of State. 
Could you tell us a little bit about yourself?
My life has been driven by a passion for reading as a way to understand and process the world around me.  In fact, it was studying French literature that led me to my eventual career in international affairs.  I began taking French classes in middle school and immediately fell in love, a love that has only grown deeper in the almost 20 years since.  Diving deep into francophone and postcolonial literature as a high-school student and undergraduate opened my mind to new ways of thinking about history, identity, gender, race, politics, and power.  Etched into my mind are specific books, even specific sentences, that changed how I understood myself and my relationship to the world, and I return to them regularly, like looking at old pictures in a photo album, remembering how they made me feel at the time, but also seeing them in a new context as I grow and experience more of life and the world.  
How was your time at Yale? Can you share a few memories that you think might encapsulate your experience?
The memories that stay with me the most are connected to the people I met while at Yale.  I will never forget the professors who made me feel like I had something of value to contribute, not only to their class but also to their field of study.  I will never forget the undergraduates I taught and how rewarding it was to see them grow into more confident scholars and critical thinkers.  And –– and this is maybe what I treasure the most –– I will never forget the late-night discussions with my group of friends on everything from politics to philosophy to queer culture to relationships.  For me, being at Yale was being part of a community, and it was the people I met who made me feel that way.
What made you decide to come to Yale for your European & Russian Studies (E&RS) MA degree? Was there anything in particular that you were interested in?
I have always taken an interdisciplinary approach to my work, so the prospect of coming to Yale and learning from world-class scholars across different fields appealed to me immediately.  I wanted a rigorous program in which I could design my own course of study and apply the knowledge and tools of various disciplines to my research.  My main interest at Yale was European identity as it relates to Europe's history and role in the world, and every course I took –– whether in the French, music, or political science departments, the law school, or the Jackson Institute –– added another layer to my understanding of Europe, its history, and its politics.  
How has your E&RS MA degree influenced your life, professionally and/or personally? 
I have been lucky that my diplomatic career so far has been directly connected to what I studied at Yale.  My first diplomatic posting, in Algiers, built on both my longtime interest in Algerian literature and one of my favorite courses I took at Yale, "Camus and the Algerian Question," with Alice Kaplan. 
While at Yale, I was a Foreign Language and Area Studies (FLAS) fellow in German, which prepared me well for my posting in Berlin.  I am deeply grateful, in particular, for the great German instructors I had at Yale, whose teaching gave me the ability and confidence to engage with people all across Germany, from politicians to local officials to student groups. 
My time in Germany was also marked by significant historical milestones, including the 30th anniversary of the fall of the Berlin Wall, the 100th anniversary of the end of the First World War, and the 75th anniversaries of many events related to the end of the Second World War.  One of my favorite experiences at Yale was being a teaching fellow for Bruno Cabanes' course "The Experience of War in the 20th Century," working with undergraduates to use the tools of social and cultural history to better understand major historical events, including many events whose commemorations I would later witness in Germany. 
Now that I am back in Washington, I lean heavily not only on my coursework on the European Union, but also on the many lessons I learned from my thesis advisor Michele Malvesti on national security decision making and how the National Security Council works.  
Can you describe your salient points in your career after Yale and to where you are now?
I came to Yale with the support of the Thomas R. Pickering Graduate Foreign Affairs Fellowship, so I knew from my first day on campus that I would join the diplomatic service directly after I finished my studies.  Through that fellowship, I had the chance to intern with the Department of State's Executive Secretariat staff and in the political section of the U.S. Mission to the European Union.  
Since joining the U.S. Foreign Service in 2014, I have worked at the U.S. Embassies in Algiers and Berlin, with short-term stints at the U.S. Embassy in Abu Dhabi and the U.S. Consulate General in Leipzig.  Currently, I am the desk officer for the European Union at the Department of State.  In this role, I provide guidance to policymakers in Washington and diplomats at our embassies in Europe on issues related to the EU and help prepare senior U.S. officials for engagements with EU counterparts.  I also seek to explain complex legal and political aspects of the EU in ways that make sense to a more general audience.
If you could go back and give yourself advice when you were a student, what would it be? 
Coming to Yale, I wanted to make the most of my academic experience and soak up as much knowledge as I could.  But if I could go back, I would tell myself to take a more balanced approach to student life:  spend more time with my friends, visit the art galleries more often, and get to know and appreciate New Haven a little better.
If you could pass on a piece of advice to current undergraduate students looking to further their graduate studies in European Studies or a current E&RS MA graduate student, what would it be?
Always be curious.  Look at issues from as many different angles as possible.  Learn the conventional way of doing something, and use that as a starting point, rather than an unbreakable rule.  Be rigorous in your research and watertight in your logic, but develop your own voice and never forget to have fun as a writer.
Jake Nelson is a Foreign Service Officer with the US Department of State.  The views expressed in this interview are solely his own and do not necessarily represent those of the US Department of State or the US Government.