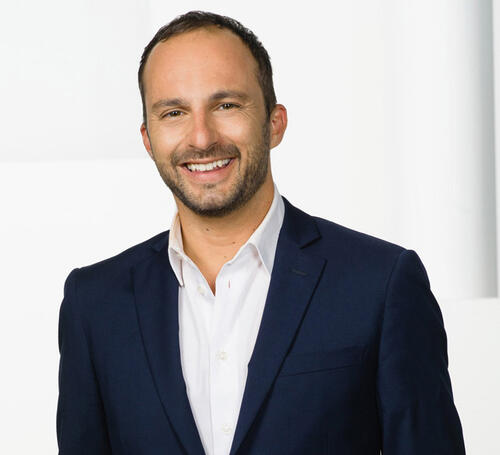 The following interview is part of the European Studies Council's Alumni Spotlight series. This series features graduates from Yale's European & Russian Studies (E&RS) Program.  
Dr. Dean Vuletic graduated with an MA in European & Russian Studies in 2002. While at Yale University, he was a Fulbright Scholar. Since graduating, he has completed a doctoral degree in history at Columbia University and worked in academia and journalism, holding positions in Austria, the Czech Republic, Germany, Italy, and the United States. As a historian of contemporary Europe based at the University of Vienna, he has written the first scholarly book about the history of the Eurovision Song Contest, Postwar Europe and the Eurovision Song Contest (London: Bloomsbury, 2018). For this he received a Marie Skłodowska-Curie Fellowship, one of the European Union's most prestigious research awards. He is now a leading media commentator and public speaker on the Eurovision Song Contest, one of Europe's biggest popular cultural phenomena. 
Could you tell us a little bit about yourself?
I grew up in a Croatian immigrant family in Australia, in Perth, one of the world's most isolated cities. I think that that remoteness was a reason why, as a child, I was often reading books about other countries, watching imported television shows like the Eurovision Song Contest, and dreaming of traveling. I also loved to learn languages: at home we spoke Croatian and English, and at school I studied Italian and French. So, that is how I started to develop an academic interest in European history, languages, and politics. Yet, I never could have imagined then that I would one day study at Yale, let alone as a Fulbright Scholar. I did, however, dream of becoming an actor or diplomat… which is probably why I have ended up specializing in topics like cultural diplomacy, European integration, and the Eurovision Song Contest!
How was your time at Yale? Can you share a few memories that you think might encapsulate your experience?
My time at Yale was an exceptional turning point in my life as it was the first time that I left Australia to live long-term in another country, although I had spent a semester abroad in the previous year studying at the Hebrew University of Jerusalem. So, my years at Yale were a time of exploration and (self-)discovery. Not only did I get to explore America, but I also discovered the world through the international group of friends that I made at the university. I also recall the opportunities that we had to meet prominent figures who came to Yale to give talks on a detour from their visits to New York City and Washington, D.C. In my first semester at Yale, I went to speeches by the Croatian president, and by a Taliban official… And we had the opportunity to ask them questions and meet them personally: Yale's connections with American and international institutions made for some unforgettable encounters.
What made you decide to come to Yale for your European & Russian Studies (E&RS) MA degree? Was there anything in particular that you were interested in?
I was most interested in Yale's strengths in East European history, languages, and politics. This is also why I was awarded a Fulbright Scholarship, as the possibilities for studying East Europe in Australia were so limited. I was especially keen to study with Prof. Ivo Banac, who was a preeminent historian of Southeast Europe.  
How has your E&RS MA degree influenced your life, professionally and/or personally? 
First, the personal dimension: the friends that I made there. After Yale, we were scattered all over the world, but I am still close to many of them, and I have even been best man at two of their weddings! 
Professionally, Yale shaped my confidence to become a historian who could address topics that were controversial and untouched. My Master's thesis was on the history of sexual minorities in Croatia, and it was the first time that this issue had ever been addressed in a scholarly study. I wrote it at a time when a public gay rights movement was just about to emerge in Croatia. My Master's studies qualified me to get a position in the doctoral program in history at Columbia University, where I worked with another leading historian of Southeast Europe, Mark Mazower.
My study of the Czech language at Yale also proved to be personally and professionally invaluable. I spent the year after my Master's studies in Prague, working as a journalist for Radio Prague, the international service of the Czech national public service broadcaster, Czech Radio. That experience was also useful for my project on the Eurovision Song Contest, as the archives of Czech Television contain important documents from the Cold War era, considering that Prague was the headquarters of Eastern Europe's international broadcasting organization during the Cold War. It was also in Prague that I began working at New York University, which has another campus in Florence, where I would later teach the world's first-ever university course on the Eurovision Song Contest.
Can you describe your salient points in your career after Yale and to where you are now?
So, after graduating from Columbia University with a PhD in history in 2010, I taught at Columbia University and the Cooper Union. I was also a teacher for the Leadership Enterprise for a Diverse America at Princeton University, in a pre-college course that assisted talented high school students from under-resourced backgrounds to achieve admission into the most selective colleges, like Yale. That was such a rewarding job. Many of the students came from immigrant backgrounds, so I could personally connect with their experiences, and I was so proud of them when they did get into the top schools.
After that, I was a Max Weber Post-Doctoral Fellow at the European University Institute in Florence, where I also taught at New York University, creating the course on the Eurovision Song Contest. I also held fellowships at the Centre for Contemporary History in Potsdam and the Institute for Human Sciences in Vienna.
In 2013, I received a Marie Sklodowska-Curie Fellowship for the University of Vienna to write Postwar Europe and the Eurovision Song Contest. The research for that took me to archives, concerts, libraries, and television stations in some two dozen countries across Europe. As luck would have it, Austria ended up winning the Eurovision Song Contest in 2014 with a performance by the bearded drag queen Conchita Wurst, which resulted in the contest being staged in Vienna in 2015. It was then that I began to work more intensively as a media commentator and public speaker on the Eurovision Song Contest, and I came to be dubbed "Professor Song Contest" by the Austrian media. 
In 2017, I was awarded a Lise Meitner Fellowship from the Austrian Science Fund to write a book about the Intervision Song Contest, which was the Eastern European equivalent of the Eurovision Song Contest during the Cold War. I am now part of a team at the University of Vienna that is developing the newly established Research Center for the History of Transformations under the direction of Prof. Philipp Ther, a prominent historian of contemporary Europe. In this center I am surrounded by colleagues who are creative, inspiring, and supportive, and we work in a city that is an international cultural and diplomatic center, and a place in which the work of historians is valued.
If you could go back and give yourself advice when you were a student, what would it be? 
I would have done more sports, as Yale has great sporting facilities. Somehow, I did not feel as much of a need for sports when I was at Yale as I do now. And I would have taken more classes in the Law School, as I have since developed a greater interest in international law through my research on international relations.
If you could pass on a piece of advice to current undergraduate students looking to further their graduate studies in European Studies or a current E&RS MA graduate student, what would it be?
Use Yale as a springboard to explore Europe. From all the professors and courses available, to the international student body, to the extensive library collections and generous research grants, Yale is one of the best places in the world for European studies. Learn as many languages as you can, because Yale offers so many of them, and languages always open up new adventures and perspectives. And approach contemporary Europe as a diverse, interconnected whole rather than in terms of passé East-West divisions, which I think do not tell us that much about Europe anymore. But the Eurovision Song Contest still does – watch it, because it has always been a political barometer, as one of the cultural references that has most connected Europeans in the post-war era.
More information about Dean's activities can be found on his website: https://deanvuletic.com/. Photo credit: Foto Wilke