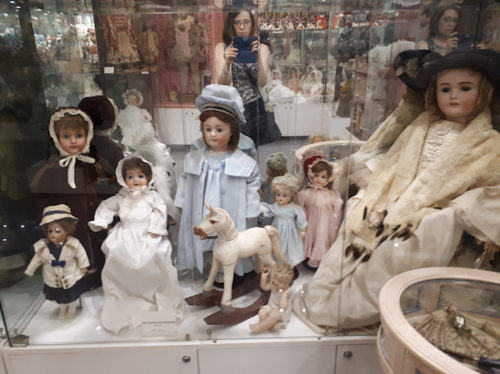 Wednesday, August 21, 2019
Liliya Dashevski, is a Graduate student in the department of Slavic Languages and Literatures. She received her M.A in the History of Art department in the University of Haifa, Israel.
---
Thanks to the Program in Russian, East European & Eurasian Studies, I had the incredible opportunity to travel to Russia for my dissertation project on dolls and toys in the 19th century Russian culture.
As a child, I started collecting dolls from the age of six. Very quickly, this hobby turned into a real passion. So much so, that I decided to develop it into a cultural study as part of my PhD dissertation. The three weeks I spent in Russia allowed me to begin my research and to lay down the foundations needed for my future work.
Since Russia's childhood material culture is understudied, I dedicated my trip to the preliminary search for materials and sources needed for my dissertation. However, working in a foreign country may be confusing at times. Thus, I spent a great deal of time making mistakes and quickly correcting them. For example, I learned that many Russian museums would not provide research access to scholars unless they specified the exact objects they wish to study, preferably with their catalogue numbers (many of these catalogues are located only in Russia). Because many Russian museums and libraries do not have electronic databases, it is often necessary for scholars to visit the museum to get the access to the materials they need. I also learned that many museums do not provide access to their collections unless they know the scholar personally. Thus, I set a goal for myself to establish a solid network of contacts at the museums so I would be allowed to access the materials I needed for my work again in the future.
Despite the difficulties I encountered during my trip, the three weeks there were fascinating and highly productive. I started my research trip in Moscow, where I met the curators of the Obraztsov Puppet Theatre Museum. I went into the theatre's workshops and witnessed the creation of puppets. One of the highlights of my visit was being allowed to examine extremely rare 19th century Russian glove puppets that were made specifically for home-theatres.
I also visited several other museums, including the Bartram Toy Museum in Sergiev Posad, the largest museum of toys in Russia, the State Historical Museum in Moscow, and the Bakhrushin Theatre Museum. While I was there, I met with several important scholars of dolls and with art historians, benefiting from their advices and experience.
During the latter part of my visit, I traveled to St. Petersburg and explored Russia's National Library. There I found treasures like illustrated price-lists of a toyshop from the end of the 19thcentury and early 19th century manuals explaining how children should play with toys. I also visited the Russian Museum, met with the curator of the State Museum of the Imperial Porcelain Factory, reviewed the doll exhibition at the Ethnographic Museum, and finally, explored the gems of the Hermitage.
These three weeks, both exhausting and enthralling, exposed me to what appears to be just the tip of the iceberg concerning Russia's childhood material culture. Yet, I feel that I achieved my main goal for this trip. I began working on a subject, which has fascinated me for years, and I now understand it holds many unexplored materials I hope to investigate in the future.