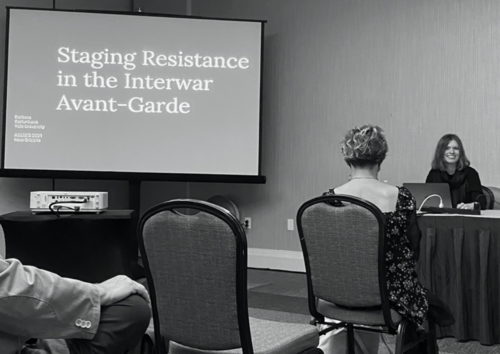 Monday, November 29, 2021
Barbora Bartunkova is a Ph.D. Candidate in the History of Art Department at Yale University, where she works on European art, photography, and film from the nineteenth century to the present, with a particular focus on interwar and Cold War visual cultures.
Thanks to the generous support of the European Studies Council at the Whitney and Betty MacMillan Center for International and Area Studies at Yale, I presented a dissertation-related paper at the Annual Convention of the Association for Slavic, East European, and Eurasian Studies (ASEEES), which took place from November 18–21, 2021, in New Orleans.
My paper, titled "Staging Resistance in the Interwar Avant-Garde," investigates the function of Adolf Hoffmeister's anthropomorphic maps of Europe in Ji Voskovec and Jan Werich's political plays at the Prague Liberated Theater and in the antifascist documentary film Crisis: Film of the Nazi Way. I demonstrated, with the generous support of the European Studies Council at the Whitney and Betty MacMillan Center for International and Area Studies at Yale, how the artist reinterprets a long tradition of European anthropomorphic art. Through an analysis of Hoffmeister's maps, which use the female body as a terrain for interwar political cartography and its allegorical language of the body, a model for radically new, interdisciplinary forms of resistance against fascism in the 1930s is constructed.
My presentation was a part of the panel Representing Antifascism and Difference in the Czech Lands, which focused on antifascist cultural production in Czechoslovakia from 1933 to 1945 and its repercussions after World War II. Meghan Forbes's contribution particularly resonated with my topic, as she discussed the antifascist performances of the Liberated Theater's dancer and choreographer Mra Holzbachová, including "Madame Europe," another use of the Europe-as-body metaphor in the context of artistic resistance to Fascist and Nazi political oppression.
In addition, I attended a number of sessions at the ASEEES conference that were extremely beneficial to the development of my dissertation on interdisciplinary perspectives. Notably, the panel Art, Agitation, Anti-Fascism: Visual Culture at the Front as a Document of Soviet Wartime Socialism provided art-historical accounts on my subject in the context of Soviet Russia, while the roundtable Socialism or Barbarism: Antifascist Art and Culture provided insightful readings of Polish, Soviet, and Yugoslav literature, film, and media, which, in Walter Benjamin's words, countered the fascist "aestheticization 
I am therefore extremely appreciative of the travel award from the European Studies Council, which has significantly reduced the cost of attending this conference and enabled me to receive invaluable feedback on my dissertation project from leading scholars in the field. I anticipate future iterations of my project in which it will be refined and shared further.