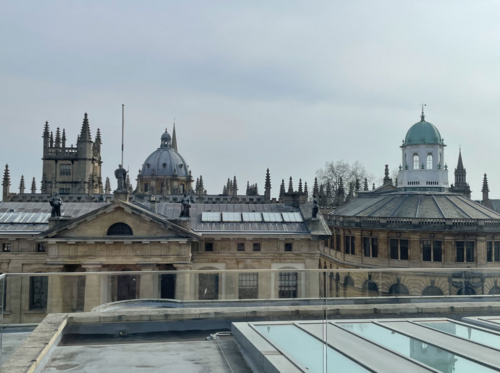 Ellen Nye is a PhD Candidate in history researching early modern trade between England and the Ottoman Empire to offer a new interpretation of the inter-imperial origins of global finance.
In April 2022, I traveled to the United Kingdom for archival research and the annual conference of the Economic History Society. In the United Kingdom, I worked in two archives. First, I examined the Ottoman manuscripts at the Bodleian library in Oxford. Numerous of these documents have never been published, and the reading room had a beautiful view (see picture). Additionally, I examined the Prize Papers held by the National Archives in London. The Prize Papers are the documents seized from enemy vessels during battle. They contain ephemeral documents such as merchant letters, bills of exchange, and whatever other documents were carried on the ship, including recipes for marshmallow soup and flu remedies.
After completing my archival research, I took the train to Robinson College in Cambridge to present my work at the Economic History Society Conference. I was delighted to meet European scholars and learn more about the research conducted in the United Kingdom.