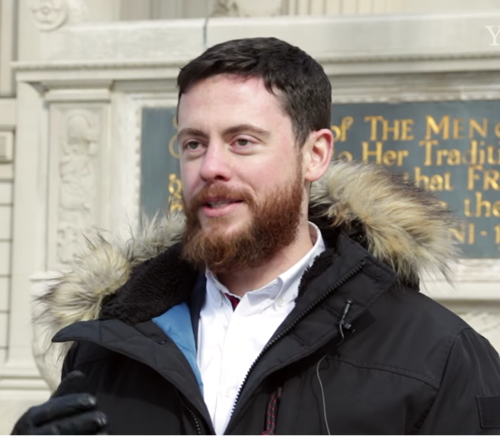 The 2017 European Student Conference (ESC 2017), hosted at Yale University Friday-Saturday, Feb. 10-11, will bring together 100 undergraduate and graduate students from universities across the United States and Europe to address some of the major challenges for the European Union. The theme of this year's conference is "Reforging the Social Contract in Europe."
The event is hosted by European Horizons is a United States-based, non-partisan think-tank devoted to exploring the meaning of European identity, modernizing and reforming the concept of the social market economy, advancing the cause of European integration, and deepening transatlantic relations.
Participants at ESC 2017 will have the opportunity to craft policy perspectives that shed light on European challenges in addition to entering into a debate with professors, current and former decision-makers from Europe and representatives of European institutions. Participants will also draft a concrete plan of action for implementing the policy visions and strategies that they develop in the workshops.
The conference is structured around three main formats: keynote speeches, panels, and workshops. The first day of the conference will begin with an opening ceremony with keynote speaker David O'Sullivan, ambassador of the European Union to the United States, before focusing on the first two workshop sessions: each featuring a policy adviser, professor, and moderator. The themes of the workshops include identity, migration, political legitimacy of institutions, productivity, foreign and security policy, and entrepreneurship.
The afternoon will feature an European Horitzons Chapter Information Session after the "Opportunities of Brexit" panel. Moderator Eileen O'Connor, formerly with the U.S. State Department and now vice president of communications at Yale, will lead the discussion with panelists Ambassador Peter Wittig from Germany, Ambassador Gérard Araud from France, O'Sullivan, Professor Robert Shiller of Yale, and Catherine Stihler, a member of the European Parliament.
The second day of the conference will begin the "European Public Sphere panel," where moderator Michael Kaczmarek from the European Parliament Research Service (EPRS) will talk with participants Kevin Delaney from Quartz, Martin Sandbu from the Financial Times, Eschel Alpermann from EPRS, and Alexander Goerlach of Harvard. Participants will also have a third workshop to continue their discussions and policy proposals.
See a detailed schedule of the conference.
European Horizons convenes several conferences throughout the year, publishes research and policy papers through its academic journal, The Review of European and Transatlantic Affairs, and maintains chapters across universities in the United States and Europe. For more information, visit http://www.europeanhorizons.org.
ESC 2017 is co-founded by the European Union as a Jean Monnet Activity under the Erasmus+ Programme. Renée Haferkamp of Harvard's Center for European Studies is the special adviser for ESC 2017. The event is supported by the European Commission and Erasmus+.
For further information, contact Nicholas Romanoff, president of the European Horizons Chapter at the University of Chicago at nromanoff@uchicago.edu or (646) 385-5823.