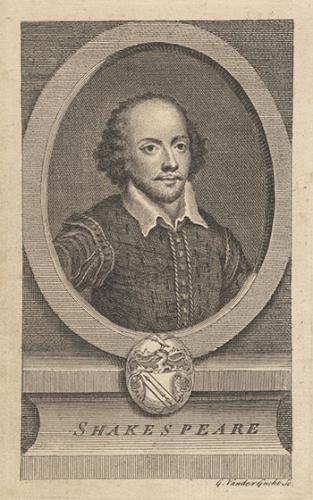 From laughter to despair to horror, William Shakespeare has elicited every imaginable emotion from his audiences since his plays were first produced in the 16th century.
April 23 marks the 400th anniversary of the death of Shakespeare, who is widely regarded as the preeminent poet and playwright in the English language. In celebration of that milestone, YaleNews spoke via email with David Scott Kastan, the George M. Bodman Professor of English, and a scholar on Shakespeare and his works.
Kastan has served as the general editor of three editions of Shakespeare's plays, and he is also the author of four books on Shakespeare: "Shakespeare and the Shapes of Time," "Shakespeare After Theory,""Shakespeare and the Book," and "A Will to Believe: Shakespeare and Religion" (out in paperback this spring). He discussed how he came to study Shakespeare, and why the Bard's plays are still so relevant today.
What prompted you to study William Shakespeare and his works?
It was an accident. I went to graduate school thinking I would work on modern poetry. My first term I took a seminar on 20th-century American poetry, which I didn't much like — enough that I even began to think about leaving graduate school for law school. On the bus to airport between terms, someone told me about a Shakespeare course she had taken, which she had loved — and the next term I took the course from the teacher, David Bevington, who changed my life.
What role did religion play in Shakespeare's plays?
He writes about religion all the time. It provides him with the fundamental language of value and understanding in the plays. It is the source of the vocabularies in which characters understand themselves and others. Shakespeare's awareness of the inescapability of religion in his England is everywhere apparent, but his own beliefs cannot be teased out of the plays. He refuses to tell us what he believed or what we should believe. But he understands that people do believe and that these beliefs shape their lives.
Why are Shakespeare's plays considered to be the most iconic works of literature written in English?
Because they are the best body of work that we have: 38 plays that have proven unforgettable.
Why are Shakespeare's plays still relevant today?
The plays brilliantly stage the most urgent questions we have about our own lives. Shakespeare embeds the questions in such densely imagined and linguistically fashioned characters and plots that every age has at once felt the necessity and discovered their own ability to refashion them in whatever terms they need to stay in touch in with him.
Who is your favorite character and what is your favorite play by Shakespeare?
My favorite play is always the last play I have read, so today it is "Measure for Measure." My favorite character also changes from moment to moment. Today, it is Lucio [an outrageous young nobleman in "Measure for Measure"].
As a scholar of Shakespeare, what is especially meaningful to you about the 400th anniversary of his death?
Actually thinking about his death seems sad. The 400th anniversary of his birth in 1964 seems a better thing to celebrate, though it is convenient that both happened on April 23.
If the Bard were alive today, what one question would you ask him?
Pepe's or Sally's?
(Image via Shutterstock)